An athlete with a multiple
set of skills and interests (part I)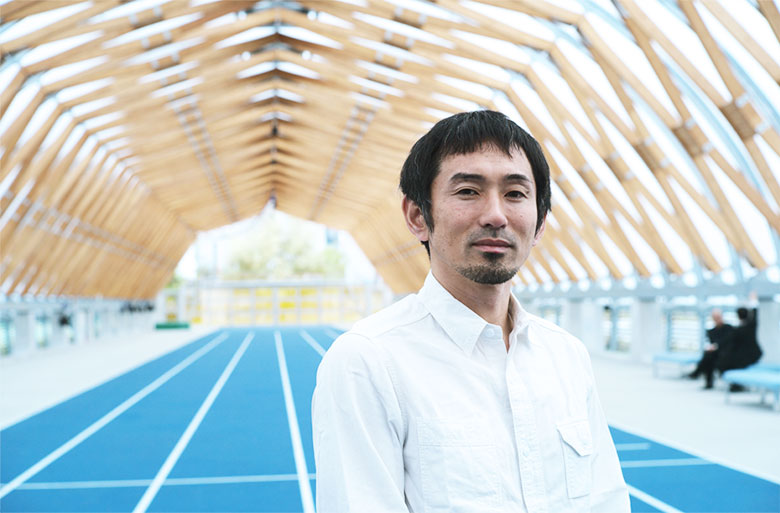 Spirituality of a top athlete
ー You were able to continue running as an active person to the limits of your body for three consecutive Olympic Games, but what was the spirituality that supported it?
First of all, it seems that athlete's minds will change depending on the occasion, when you're in elementary school you dream of being a "superhero" but with time we all grow to different ideas. For example, if you do your best in sports you can go on to university, then you can get a job or you may find honor, status, monetary objective depending on the person. If it goes to a certain point though, I started to think "why I am doing this". I was a little different from other athletes, I began thinking seriously about doing things other than competition from the middle of my career. It is natural for many athletes to be conscious about competition, but in my case there was a place where I was looking at other lives as well as being better at skills for competitions.
ー Why did you think that?
Competition has been part of my life for many years since I was a child, so it was more likely to touch that essence than other things that I started from scratch, so I feel that I wanted to be extremely strong. It was a feeling that I wanted to see for myself, to see as an athlete how far I could go.
ー Tamesue-san, your main speciality was the hurdle course right?
Yes, but in the beginning I thought that any sports would be good. But anyway I just felt strongly that I wanted to know and touch that essence.
ー Although you talk about it earlier in the story, when did you start to look outside the competition world?
I started hurdles when I was a student and entered a company called "Osaka Gas" at the age of 23. I ended quitting after a year though, I thought at that time that I couldn't do my work properly. Even though I became a office worker, I wasn't much involved with the company because I was still doing competitions, but I saw that it was the same for those who goes on overseas business trips, and since the life of an athlete isn't full time, at that time I thought vaguely that it could work. Then I gradually began thinking seriously, while continuing the competition, what kind of thing would I do if I work in the future.
ー After becoming a professional, everything passed through the agent, and it seems that the challenge to go on competitions abroad etc. has increased.
When becoming a professional, opportunities to do things other than competition is higher than when you're a member of the society, but in my case I got to work more and to meet with particular people. I was in my hometown in Hiroshima until I was 18 years old. As I progressed into my career as an athlete, I came to think that it was useless to only compete and be in Japan, and I started to go out to the world by myself. But when you have an agent, he decide on where you go and your schedule because of this or that match. However, although I don't understand how it works in this time and year, when I was running there wasn't much prize money on track & field sports in comparison with popular sports such as soccer, so agents did not take care of the details and paperworks. There were also a lot of preparations I had to do by myself, that was hard work but it made me grow and it was a good experience for me.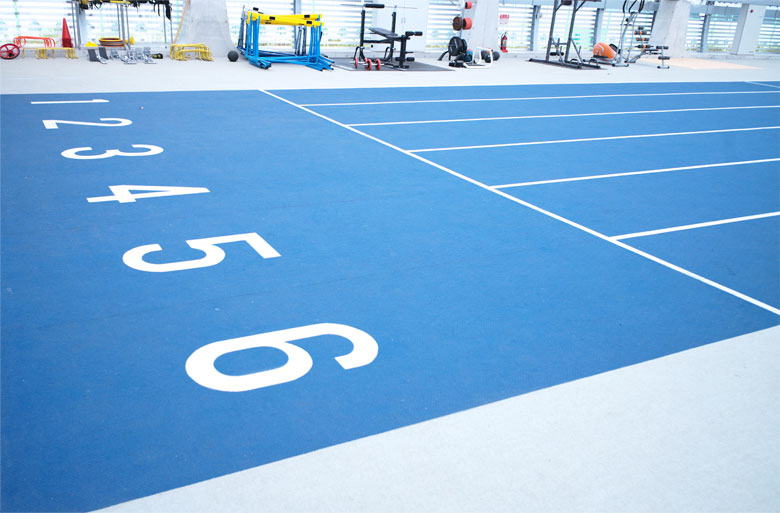 ー You participated in the Olympics for three years in a row, was it a big motivation to continue competitions?
Although it did not come in the end, getting medals at the Olympic Games was a goal to keep players motivated, so yes it was also a big motivation to continue competitions.
ー Is it why you had the motivation to continue with competitions?
Motivation plays a part for sure but I also feel like there's a "purpose" that is there since the beginning. Motivation can change every day depending on the athlete. But the purpose is something that is here since our birth. I myself had a strong purpose that I wanted to discover and I wanted to reach the world level in athletics. In the end, I think that there are two types of athletes, those who just want to run and those who want to understand who they are and what they are capable of doing. In the first case, the athlete just want to run and don't wanna think about anything else than that, so they delegate everything else to the coach and only concentrate on the competition.
ー Tamasue-san when you became pro you didn't want to continue with the same coach, why is that?
I was more interested in understanding what I could do with these two legs that could run fast. Some people who coaches -like the one I had back then- only want to concentrate on competitions, that's why I didn't continue with them.
ー Is there a lot of top athletes who can't afford a coach in the first place?
I think that it is rare as you go higher in your career. I think that it was certainly rare at that time, no one was in that kind of situation like I was.
ー Does that mean that you knew of the possibility rather than the risk of not being a coach yourself?
Speaking of motivation and purpose, I thought that it was probably a disadvantage not being a coach as far as competitive advantage or disadvantage is concerned. It is important to have a coach to receive feedbacks from the standpoint of a third party as well, and in that sense there are limits to what one can experience alone. The accumulation of experience is also something that can't be invented. That is a tremendous positive asset in an athlete's competition lifespan. In my case it was a deep motivation to continue to be active and knowing that it was meaningless to win without working hard for it. So, if the athlete had been competing only to win, it would have been better to have a coach.
ー Do you recommend it to other athletes?
No, I don't recommend it (laugh). When I was doing good it was "cool" not to have a coach, but it depends on what the athletes wants so I can't really say if having a coach or not is better. But the biggest challenge for athletes is that the competition lifespan is short. The peak is said to be around 5 years. Considering that, I think that it is more efficient to have a coach.